While friends and colleagues know her as Jenny Sue, often she is simply referred to as "The Science Lady!" Passionate about science education, she works with students, teachers, and administrators to share strategies on improving the teaching of science.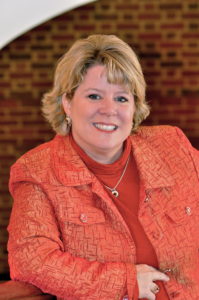 Since receiving her B.S in Biology from Longwood College in 1992, Jenny Sue's professional career has encompassed teaching science at various grade levels K-12. She has also served as the middle school and elementary science coordinator for Virginia Beach City Public Schools. Currently she is an associate professor and Director of the Martinson Center at Regent University.
In addition to her work in public education, Dr. Flannagan has presented at a number of local, state, and  national conferences on topics including differentiating instruction in science, inquiry-based science, using the four question strategy to help students design experiments, and Lesson Study. Jenny Sue has earned several awards such as the Salle Mae 100 Best First Year Teacher award in 1992, and in 1999 was awarded the Presidential Award for Excellence in Mathematics and Science Teaching. Additionally, Dr. Flannagan has provided curriculum review for various school divisions in Virginia.  She also serves as a reviewer for National Science Teacher's Association publication Science and Children and has reviewed books for Corwin Press.
Dr. Flannagan earned an Ed.D. in Education, Adult Learning and Staff Development from Regent University.  She holds an Education Specialists degree in Administration and Supervision and a Master's of Education in Curriculum and Instruction from the University of Virginia. Jenny Sue earned a Bachelor of Science degree in Biology with an endorsement in General Science II and Earth/Space Science from Longwood University.  She also holds a gifted endorsement
Just Simple Science was born out of her desire to give back to teachers. She loves designing curriculum that will inspire the next generation of science teachers.